1UP Arcade Brisbane
is Australia's largest Retro arcade, with a focus on arcade preservation and community. With a flat-rate $15 entry fee, you can choose to play unlimited pinball at Brisbane's biggest pinball venue, or play on over 90 arcade games with included access to our Retro Console Lounge. Want it all? Then $25 gives you access to everything, all day, on free-play! :-D
You'll be re-living your childhood memories with everything from Golden Axe, to Sega Rally, 4-Player TMNT and NBA Jam, or a myriad of Street Fighter games! Check out our
games list for a complete list of games
.
To learn how you can support your local arcade,
please click here
.
Engage with the 1UP community through our regular tournaments and workshops & stay up to date on our latest aquisitions!
Wednesday to Sunday 2pm-10pm
Basement Level, 230 Lytton Rd, Morningside QLD 4170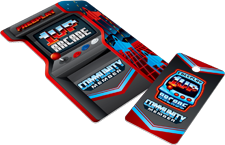 Leave your loose change at home
Daily entry and long-term memberships give you unlimited access to 60+ games - all set to freeplay!
Receive upcoming Events & Special Announcements