PLAY ALL-DAY
- Wednesday to Sunday, 12-8pm
This page does not exist!
1UP Arcade Brisbane

is Australia's largest Retro arcade, with over 200 original machines, and a dedication to arcade preservation and community. With a flat-rate ALL-DAY UNLIMITED PLAY entry, you can choose to play unlimited pinball at Brisbane's biggest pinball venue, or play on hundreds of original arcade games.



Support 1UP Arcade by

leaving us a review!


You'll be re-living your childhood memories with everything from Space Invaders from 1978, to Donkey Kong, Golden Axe, Sega Rally, Shinobi, Wonderboy, Robocop, 4-Player TMNT and Simpsons, Time Crisis, Daytona, Point Blank, Double Dragon, Metal Slug, Galaga, 1942, Raiden, Bubble Bobble, Pac-man, Pong (1972), or a myriad of Street Fighter and Mortal Kombat titles! Check out our games list for a complete list of games.
Engage with the 1UP community through our regular tournaments and workshops & stay up to date on our latest aquisitions!
Wed-Sun 12pm-8pm
230 Lytton Rd, Morningside QLD 4170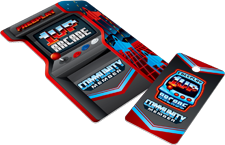 Leave your loose change at home
A flat-rate daily entry and memberships give you unlimited access to hundreds arcade games and pinballs - all set to freeplay!
Receive upcoming Events & Special Announcements